Browsing Category: "Personal"
I'm not a party person or hang out with friends at night. Honestly, I only seeing what is happening in the club on television or series I'm watching. I saw smoke or fog effects in these places, even in one of the shows on TV. For sure they did use fog machines in order to achieve the effect. Well, just thought of this fog/smoke effects out of the blue, heheh!
Earlier I got email from Godaddy telling me to renew this domain. Well, this wasn't the first, I got message from them months ago for the same reason. I checked it and this domain is expiring on April 19, only few days to go.  I'm thinking of renewing or not and I will choose to maintain this domain. I just thought that I didn't renew two blogs already. I don't want to let go another blog so later I will renew this domain. I hope this laptop will cooperate. aI have been complaining because this laptop is really old and it takes hours before it finally works.
For the past months, this blog receives few paid tasks but still thankful because the money I'm getting from this blog helps me renewing the domain and hosting of this blog.
Before ending this post let me share my daughter's new Vans shoes all the way from Canada. Thanks to her cousin at the same time godmother for giving this one. The pink color is so girly :). It is leather type and I believe the design will match shorts, skirts, dresses and pants. My daughter has many shoes but small already so receiving new pair is really a blessing. Will share the shoes some other time, laptop causing trouble right now, even renewing this domain is impossible. Anyway, i still have few more days before this domain finally expires.
I was cleaning my closet and found so many clothes that haven't used for a long time. These clothes make my closet full so I decided to separate clothes that I can still use and hide those that can't be used. There are many clothes that I didn't use and just using the space of my closet. I have small closet and most of the things are trash. I wonder if I could sell them online as pre-loved items or sell them in the garage. But only few people are passing in the house so impossible to sell. I think same thing if I'm going to sell them online because clothes are not new. I don't think it would be easy to sell. Well, I think I need to hide them first and give them to my relatives or sell them if possible to do. I'm glad my sister from Paris is here for vacation and I got clothes from her. Many of my old clothes can't be used already so thankful I have new clothes to wear.
Back again here in blogosphere. I was busy with some offline things and I wasn't in the mood to open this laptop because as I said many times this one is acting so weird already. I haven't brought it to the technician hopefully tomorrow morning.
Anyway, 3 day sale has just finished in one of the malls in our place, so I took advantage with the discounts and freebies. I bought shoes and dresses for my daughter and other things.  If only i have extra money i will do my early Christmas shopping. There were many items on sale up to 70% off, I don't know if Reid Supply Industrial is included. I will stop my post here, daughter and I need to do her assignment first but I will show some of the things I bought next time.
Shopping online is now a daily or weekly activity for many people. It's because online shopping is more convenient than going out in the stores. But it's not always easy to deal with online stores because many are deceiver. So beware of these people. Good thing for almost a year of shopping online I can say all my transactions were smooth and happy with the items I received.
One of my favorite online stores is hallohallomall. The first thing I bought here was Intelligent Learning Machine for my daughter. It's a kind of toy that provides educational activities. That time I wasn't aware that you can shop in this store for free. To do this, just make sure you have an account on this store. So don't hesitate to visit and create an account because they will give you points just by joining the site.
Every time you visit hallohallomall they will give you 5 points plus other bonuses if you find items with point inside. Visit the site for 20 times in a month and receive an additional 100 points. These points can be used to buy all items available in the store. Since I learned about these things I make sure to log in everyday. Happy because I already got 2 items at no cost; wallet and black and white striped semi dress/top. I hope point system in hallohallomall will not end so I will get more items for free in the near future.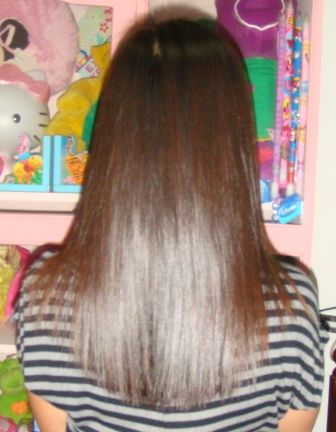 I just wanted to share my new hair. My hair got rebonded for the third time. If I'm not mistaken the last time was 8 months ago. Anyway, this hair rebonding plus treatment cost 1,430 pesos but got discount and only paid 1,360. I also received 120 ml of conditioner and leave-on-conditioner. These 2 products were included in the package.
I'm satisfied with my hair now and I'm glad it's easy to manage after it was rebonded. I don't need to comb it always as it is looking good all the time. I will try my best not to do the wrong doings after my hair rebonding. So how to take care of Rebonded Hair? Here are some of the things you should do as advised by the hair expert in the salon.
Don't wash or wet the hair within the next 3 days after hair got rebonded.
Avoid putting the hair on ears (I'm trying).
Do not use hair clips, bands, pins, or any kind of hair accessories.
Visit the salon once a month (well, if I have the bucks)
I don't normally buy expensive bags. Well, I guess I'm not into bag because if I adore bags for sure I will have number of bags in my closet. Bags amounting to 500 Php and up are already expensive for me, hahah. 
Last 3 day sale in one of the malls in our place I saw crowded people in one area. Then I learned they were looking for Jovanni bag. I saw this Jovanni bag (photo below), my mother who was with me told me to buy it. I liked it because I don't have similar bag design but I was having a doubt if I will get it or not because the price was 1,900 Php. Mother said it's already on sale and I have to pay 950 Php, still expensive because it's already exceeded my limitation for a bag. My mother convinced me to buy so I have no choice but to get it and besides I purchased it using my credit card.
I was surprised because I got 2 bags for the price of 950 Php. There is sling bag inside the bag. What I liked with the bag is the large compartment. Well, there were times when my bag is big i just put everything inside the bag. And its hard for me to look for something but now i learned how to organize my stuff. Normally i have pouches inside the bag and put my stuff separately so it's not clattered. Well, happy with the bag and I think it's worth it to buy this Jovanni Bag.