Browsing Category: "lifestyle"
It's more fun here in the Philippines especially this summer season. With over 7,000 islands I'm sure there is one or more near you. I saw different posts in Instagram and surprised to see beautiful beaches in our country. Well, our archipelago is really blessed with so many beautiful beaches.
Well, if many of our kababayan love to enjoy our beaches and other tourist spot, other doesn't like to go anywhere and just loved staying at home but still enjoying. One favorite thing to do at home is videoke. Filipino loves to do this stuff whether a pro or not. They also invest or buy powerful amplifier just like peavey 5150 to make the sound more fantastic and pleasing.
I'm not familiar of Salon Selectives. I only saw their shampoo and conditioner on sale in one of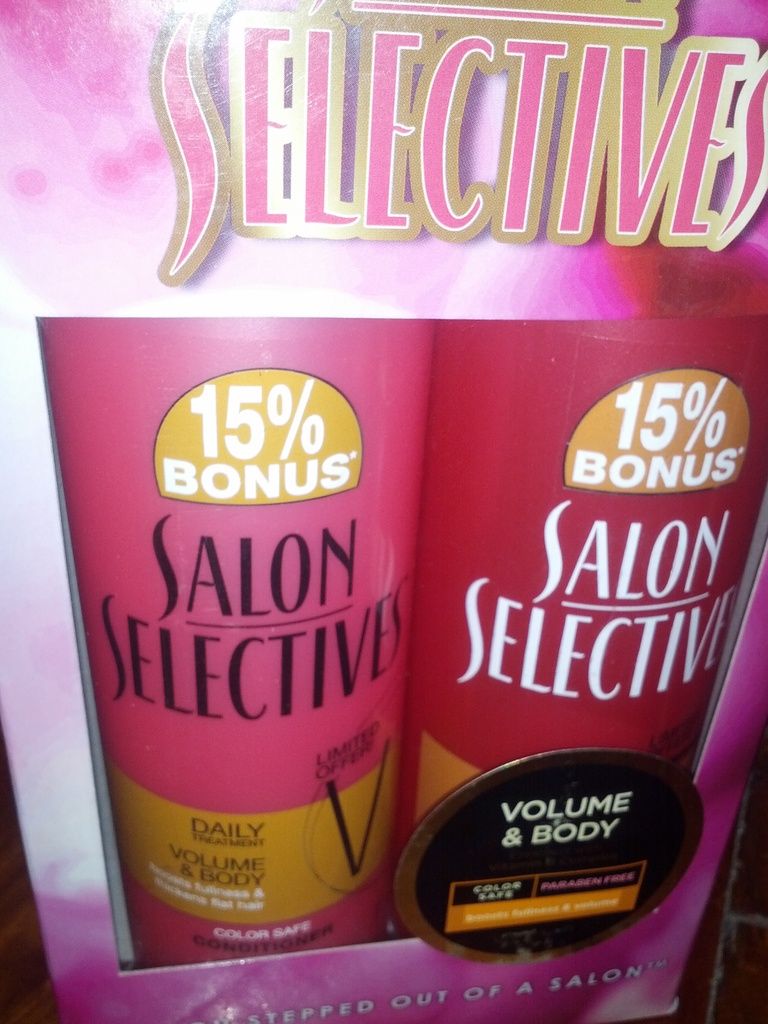 the leading stores. I was forced to buy because of the price. Shampoo contains 414ml same with conditioner and cost only Php70, only 35 pesos for each bottle. I bought right away though I'm not sure of the product, hahah! And by the way, I didn't pay any single cent because I used my earned points in my Advantage card.
So, according to the label using Salon Selectives Shampoo will makes hair thicker, bouncy, frizz-free, soft, fuller, restored shine and full body shine and will achieve using their conditioner. Both the product are color safe. I badly need them because my hair is really dry and frizzy. According to the label hair will adds fullness and thickens flat hair.
Okay, I already used both shampoo and conditioner but I'm not convinced yet. Well, I just used both product 2 times and I stopped for the meantime because I recently had Brazilian Blowout. I accompanied my mother to the Salon for hair color and the girl staff offered me to have Brazilian Blowout. The staff said it is a keratin treatment. Since, my hair needs to reborn and they offered me a promo price, I did it. By the way, Brazilian Blowout is smoothing treatment and known for reducing drying hair. That's my hair dilemma for a longer time. Well, I'm happy with the result. The staff told me to use less shampoo and focus on using conditioner daily. She offered me their conditioner product for longer result as she said but i didn't buy. I'm currently using Dove conditioner, i will still use Salon Selectives shampoo and conditioner but I think these days Dove conditioner helps restore my drying hair.

Save
Save
Save
When it comes to changing things up a bit, you want to make sure that you're making the right decision for when the time comes. This means carefully moving forward with everything that is needed while making sure that everyone loves the ideas that you have for the wedding venue, and for the entire wedding and reception that you manage to put together for your special day. Consider the wedding catering that can be changed up, and make into something a bit more unique for the special day that you have planned. You will not be let down with the benefits of having something different.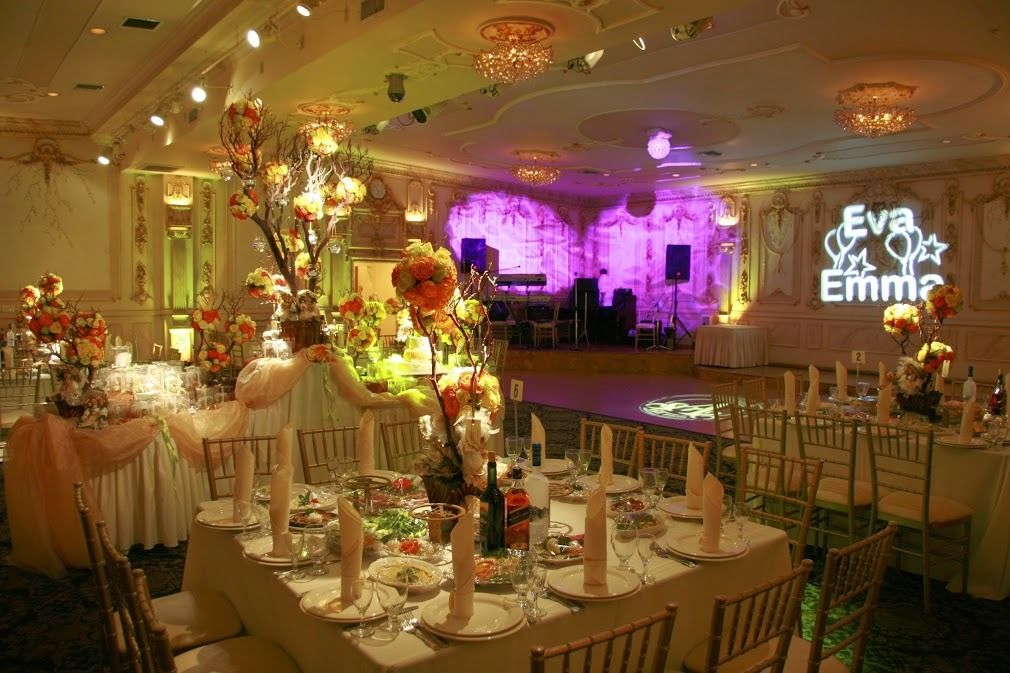 Consider the Menu for Your Guests
When it comes to the wedding catering in the banquet halls in Glendale, CA; you should know what you're getting, when you're getting it and how it is going to turn out. Make sure to check into some of the most unique ideas. Some people choose to have a buffet styled menu for people to pick and choose what they want from the tables. You can also go with a pizza or taco bar instead of the normal per dish and guest request that some weddings like to put together. You can make sure to have it all and more with the right set up when the time comes.
Enjoy all that comes from the wedding receptions and venues out there. You will not be disappointed when it comes to choosing something that fits with you. For even more wedding planning fun, Anoush is able to provide you with exactly what it is that you might need for your special day and so much more. With lots of venues, catering and other ideas to make your wedding a success, you will not have to worry about finding a wedding planner for the occasion.
Whenever I look in the mirror I feel frustrated. I have this puffy eyes and it has been a problem for a long time. I think I have this dilemma ever since I started blogging. I know there are many solutions for puffy eyes but some of them required a lot of money. Since my budget is tight, I searched for other alternative solution or home remedies so I can rid of my puffy eyes. Here's what I got from http://www.top10homeremedies.com
1. Water – When the body is well hydrated, there is less chance of water retention which can cause eyelids and other parts of body to swell.
2. Tea Bags – Tea bags will help to reduce the swelling around the eyes as it contains anti-irritant properties and give relief from redness and inflammation. To use, you need to place moist tea bags over your eyes. First soak the teabags in hot water for a few minutes and then take them out and let to cool down to a warm temperature. Just lie down and put the teabags over the eyelids and cover with a soft cloth.
3. Cucumber – better to use chilled cucumber to treat puffy eyes. The enzymes and the astringent properties present in cucumber helps to reduce inflammation. Take one cucumber and cut them into thick slices. Put the slices of cucumber in the refrigerator for ten minutes. Now place the cold cucumber slices on closed eyes for around ten minutes or until the cucumber becomes warm. Repeat the process several times a day. This remedy will also help to get rid of the wrinkles around your eyes and will brighten up your complexion.
4. Potato – The starch present in potatoes has got anti-inflammatory properties that can help in the treatment of puffy eyes. Take a medium sized potato, peel it, wash and then dry it. Now grate the potato and put them in a clean cloth and tie it up. Now place this cloth over the eyelids for several minutes. Repeat the process several times until the puffiness around the eyes gets reduced.
5. Egg whites – Egg whites have got skin tightening properties that can give relief to puffy eyes as well as help in the prevention of wrinkles. Take two eggs in a bowl after separating the yolk from it. Now whip the egg whites properly until you get a stiff consistency. Add a few drops of witch hazel to it which is also a natural skin-tightening astringent. Then with the help of brush or soft cloth, apply this mixture under your eyes and allow it to dry. This remedy will make the skin feel tighter and look less puffy.
6. Cold Spoons – Take five to six metal spoons and place it in your refrigerator for five to ten minutes. Now take out the cold spoon and hold the rounded portion against your eye for a few minutes until the spoon becomes warm. As the spoon warms, replace it with a cold one from the refrigerator. This will help in tightening up the skin around your eyes. It will also relax the blood vessels thus offering relief to the tired eyes.
7. Hot water and Salt – take a glass of warm water and add half teaspoon of salt in it and mix it properly. Make sure the water is not too hot. Now soak cotton balls or wool eye pads in this warm saline water and apply them over your eyelids for a few minutes. Repeat the process for at least half an hour. After some time, your eyes will not have the puffiness.
8. Cold Water – The cold water will help constrict the blood vessels and lessen swelling. Rinse your face with several splashes of ice-cold water to get rid of the puffiness around your eyes. Repeat the process a few more times throughout the day, as often as you need to. Or you can use a small bag filled with ice, wrap it in a washcloth, and place it on the eyes. Repeat as necessary until the swelling is gone.
9. Strawberry – The alpha-hydroxy present in strawberries can make skin look smooth and young. At the same time it can also reduce under eye puffiness and swelling. To reduce eye puffiness, keep strawberries in the refrigerator for half an hour. Now remove the tops of the cold strawberries, and slice them into thick pieces. Now lie down and place the slices under the eyes for several minutes. Once the strawberries are removed, you will notice positive improvements.
10. Aloe Vera – The antioxidant as well as the vitamin E present in Aloe Vera is effective in reducing puffiness around the eyes. You can use the aloe vera extracts on the affected area under your eyes. It will improve the blood circulation and flush out the fluids present around the eyes, thus reducing swelling. When applying aloe vera extra around the eyes you must be very careful as it must not go inside your eyes. If you are not comfortable with the pure extract of aloe vera, you can use many skin care products which contain the extracts of aloe vera.
I will definitely try any of the above home remedies for puffy eyes. I hope for positive result so my confidence will go back and feel pretty again!

I purchased these lucky charm bracelets last January. Again, i forgot to share it here so it took a month. I'm always like this, lol. Anyhow, I have said before that one of the Feng Shui experts mentioned that those from the year of snake need to pay an extra attention on their health. I belong to snake and feng shui expert words somehow alarmed me. But I'm not saying that I always believed on what they are saying, it's just happened that from the start of this year I suffered from health conditions. Thanks God because they were not severe at all.
Before Chinese New Year, there were stalls selling different amulets or lucky charms. Just like the other people, I also bought lucky charm particularly bracelets. I have this bracelet made of dragon skin (according to the seller) and another bracelet with different gems with snake. According to the seller using them would give luck especially in health and money. They mentioned also that I need not to share any of these charm bracelets or not allow anyone to  wear it because the luck might disappear. And if accidentally used by someone you just need to rinse it with water. Oh, well … I should think optimistic and believe on the power of these charms but of course prayers are still my best weapon.
I received a note from my daughter's teacher that they will be wearing 80's fashion on their  Christmas presentation. During that time I was in Elementary days and not so familiar with the styles and looks. I hurriedly searched for the 80's styles and here's what I got.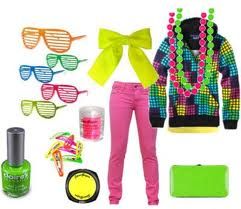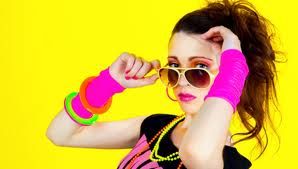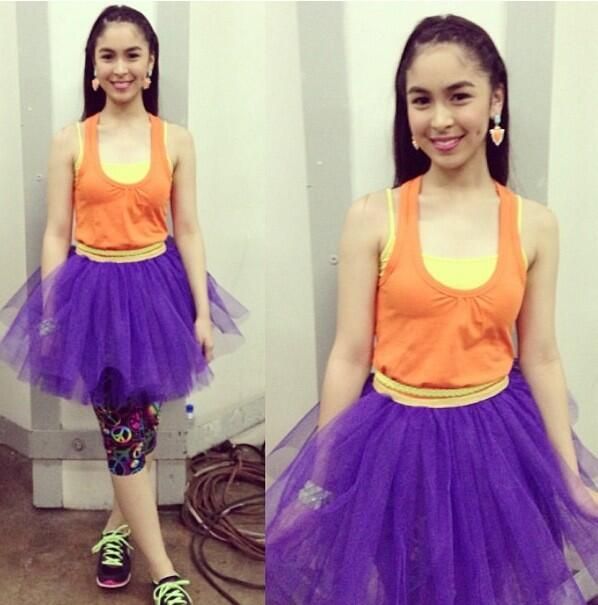 Above is Julia Barretto she wore this outfit when they danced the 80's hit on ASAP, I'm thinking my daughter will look like this on their Christmas presentation. Her teacher said any kind of 80's styles  will do, what do you think?
Disclaimer – Photos are not mine.
It's a month since I got my toes done. I think this is the reason why something is aching already especially in my biggest toes. So while waiting for my daughter from school, I went to salon earlier. It's not often that I pamper myself with foot spa so when I had the chance earlier I grabbed the opportunity. I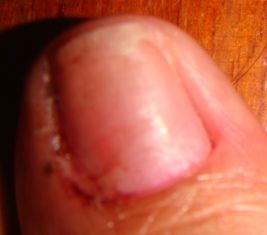 feel so relaxing while doing the foot spa especially when the manicurist massages my feet.
After pampering my feet she started to clean my toes. She's a light-handed but something strange happened to one of my toes and got hurt totally. It's been 12 hours already since I had this cleaning but still I don't want my toes to get wet. I'm afraid that it would get swollen, I hope not because I experienced this before and it's really hurt. The doctor even told me that my toe needs to undergo operation which I refused and took medicines instead. Still, I spent money for the medicines and I don't want to experience this thing again.
Anyhow, I saw in SM City Lucena FB page the newly-opened Nailworks. The store is mainly for nail art and spa treatments. I should try their services one of these days.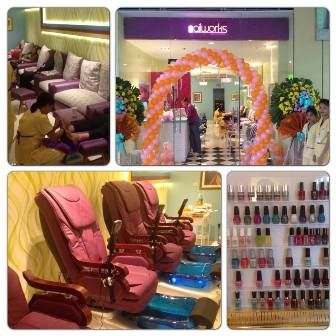 Photo credit to the owner