Browsing Category: "Kyla's Fashion Stuff"
I saw this ponytail in the mall but I didn't buy it. I find it expensive. When I came back in the store, it was already on sale. Good decision because I bought it 75% off already. I think the ponytail is cute on her the only problem is some glitters fell on her hair but i don't really think it is a dilemma 
Read the rest of this entry »
I bought these shoes and sandals for my daughter earlier. She has many shoes but some are small already. This is the reason i don't buy expensive footwear. I think day by day her feet are getting big, hahah! So, it is not wise to buy expensive one. I only buy shoes if there are on sale like this pink flat shoes. I saw this on sale and it is only Php100. I didn't think twice and bought it right away. Besides she has no flat shoes already and i don't have problem with the color. She has many clothes that she can partner with this one.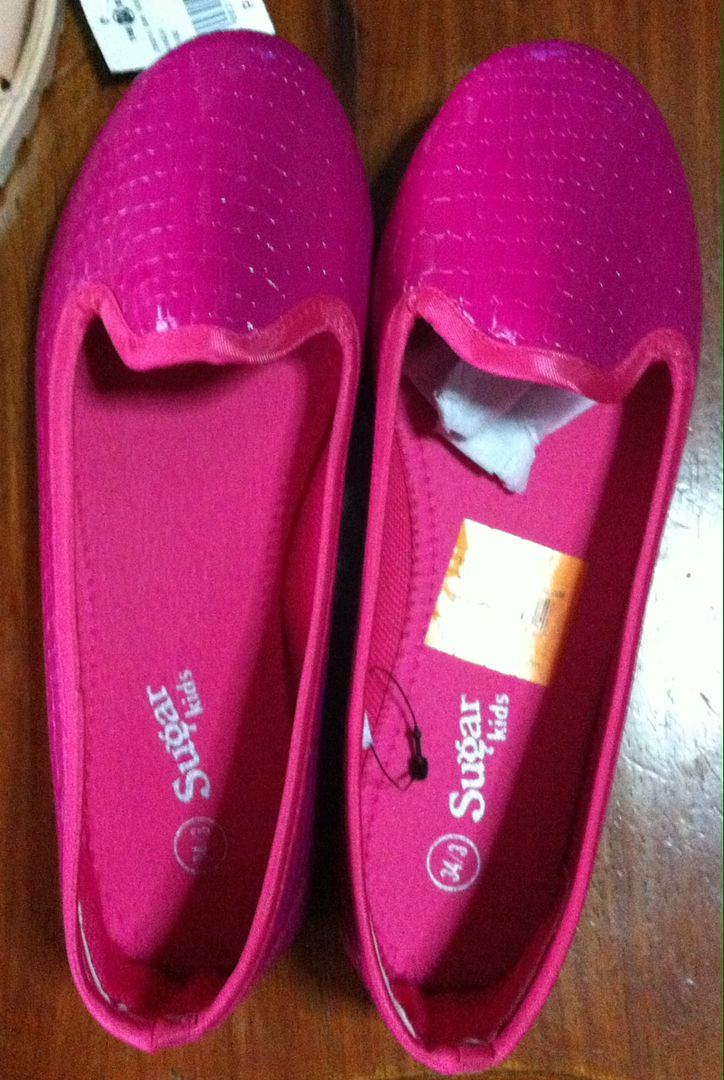 I also bought sandals. This one is not on sale but, since the cost is only Php199, i got it. She has no sandals because the last one was already worn out.
This post is long overdue. Last month Buwan ng Wika (Language Month) was celebrated at my daughter's school. Actually this was celebrated all over the Philippines (i hope i'm right). In my daughter's school, they celebrated it last August 16. Each level from Nursery to Grade 10 showed popular dances of our country.
My daughter and the rest of Prep (Kinder 2) showed talent in dancing the Pasigin dance. The latter is a Filipino folk dance showing the life of the native catching fish or showing how to catch a fish.
Here is my daughter's photo wearing patadyong. This photo was taken after the program.
I can't believe I paid only Php 20 for a pair of slippers and sandals. On the way to cashier, I was computing the total cost of slippers and sandals. Based on the price tag I'm going to pay Php 265 for all the items; 199 pesos for a pair of sandals and 66 for the slippers. 
The slipper caught my eyes because it's too girly.  See the ribbon and printed bags as background of the slippers. For me it's cute so I grabbed for my daughter. And to get it for less than 70 pesos really worth it. Actually its 50% off.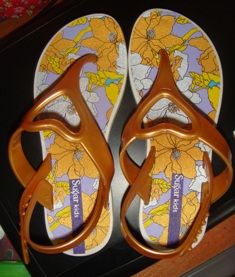 Same with the slippers above, the design of the sandals caught my eyes. The heart-shaped sandals with flowers print as background is really cute. This is not an Ipanema sandals but looks like because of the design.
In the cashier, the staff told me that the total cost is Php 164 only. I was surprised because as I said earlier my computation is Php 265. I guess, the sandals was on sale as well and just paid 100 bucks. Anyway, I'm about to give the money but the cashier asked me if I want to use the points I have in my reward card. The point in reward card is good as cash. I asked her how much I have and gave me 146 points. I was surprised because I didn't know I have those points in my reward card.
So, I used 144 points (equivalent to 144 pesos) plus 20 pesos cash for a total of Php164.
Having an advantage/reward card is really helpful and as I said a point earned is good as cash. So the more points, the more benefits you will get. I was happy that I gave these footwear for my daughter and spent 20 pesos only.

Daughter school 16th Foundation celebration is over. As I said in my other blog they will be having different activities as part of the celebration. One of the activities of the preschool level was presenting talents of the students. Some of the talents showed by the students were dancing, singing, story telling, and modeling.
My daughter and other kinder performed modeling. As usual daughter was too shy to do her walk but still did it. So, I was thankful and proud of her. I just hope that she will overcome this shyness in the near future.
They were asked to wear casual dress. So I chose this simple purple dress with ribbon. She already wore this dress but I guess it's not noticeable. Anyway, this was the second time she wore the dress after a year. For the shoes, she wore pewter boots from SM Department Store. The shoes were actually her Christmas shoes. I think that her pewter boots matching the purple dress because it has silver ribbon similar to the color of the boots.

For accessories, she uses hello kitty necklace, earrings and headband. Can you believe that I spent only 60 pesos for all the accessories? 35 for necklace, 5 for earrings and 20 for headband total of Php 60.

Many kids are fond of wearing accessories like hair and jewelry accessories. But my daughter is different because she doesn't like to wear accessories all the time. There were times she just wanted to wear a pair of earrings. When it comes to hair accessories normally she uses hair clips and ponytail. She has headband but she doesn't know how to wear it properly and many times it went to her forehead. So always end up using hair clip and ponytail when going out but this little girl removed it right away when we got home. I tell her that she is 5 already and should act not like a baby. And besides I find little girls very cute when having any kind of hair and jewelry accessories.
Anyway, I saw these jewelry accessories in the nearby store and selling at very affordable price. So I bought them even though I have this thought that daughter doesn't want to use them all the time. I just think that she can't stop me on accessorizing her with these jewelry set.
For 12 sets I only paid less than 100 pesos.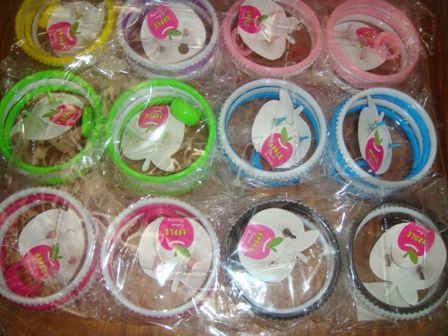 Each set has 4 bracelets, pair or earrings and ring.
It's cheap yet cute for a little girl. Thanks to my daughter because she's game to pose a picture wearing these jewelry accessories. It's a relief also because she likes it but she said only use it when going out.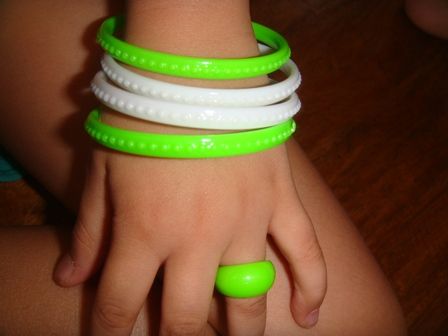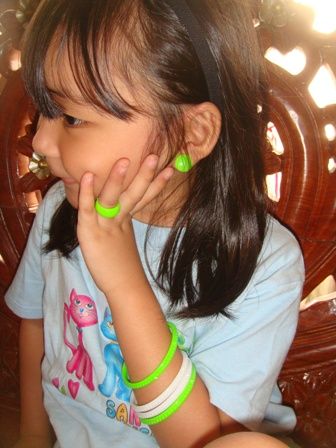 A fashionable outfit is not complete without adding accessories like necklace with cute pendant. Way back I saw my niece wearing necklace with cute pendant similar to the photo below. She bought it in Greenhills for Php100 plus. I find it cute for my daughter so I searched one in the mall near us. Luckily, I saw one store selling these necklace accessories but they have limited design. I don't like any of the design so I didn't buy.
It's not often to visit Divisoria because we are 4-5 hours away. I can't remember the last time we went here but for sure it's long time ago. But last month we went in Divisoria. And here I found the necklace I was looking. These necklaces were really cute with numerous pendant designs like hello kitty, boot, Eiffel tower, boy pendant and a lot more. Surprisingly the price is really cheap. For Php100 pesos you can get them for 3. Wow, I wish to buy more and sell them in our place but we have limited time. And I think the store is about to close. Well, thankful at least my daughter has this kind of necklace now.