Browsing Category: "Celebration"
89 days to go before Christmas. If you want early Christmas shopping I think this is the best time. Now, the problem is what to give to your loved ones? I think it is easy if you know them very well. Let say your loved one loves music, I think related to this would be a good idea. guitar center ct is the world's largest musical instrument retailer. They have wide selection of musical instruments, gear and everything about music. The good thing they are serving worldwide so wherever you are just visit their site and start browsing their collection and you might get something for your loved ones.

I'm sorry for not updating this blog regularly. I'm not promise but I will try my best to update this blog as much as I can. Anyway, I browsed my picture files awhile ago and saw my daughter's 7th birthday album. I think I haven't shared my daughter's costume when she celebrated her birthday. Her birthday themed was Sofia the First, the little girl princess. She is an ordinary girl who becomes a princess overnight when her mom marries the king.
I checked Sofia's costume in the mall but I didn't like the costume. So I decided to visit a sewer and glad she made it on time. So this is my daughter's Sofia the first costume looks like.
At first I want Sofia the First tutu costume but decided different fabric. The fabric used was combination of velvet and satin. I told the sewer not to put huge petticoat but I think I made the wrong decision. The costume would look better with a nice petticoat. The flower design in the front and back was nice.
This is the purple sandals she wore in the party. The brand is Sugar Kids that we bought at SM City Department Store. Sorry I forgot the price but for sure below Php500 
To complete her costume, she has princess crown and an amulet necklace. Sorry I don't have clear image but the necklace was made by me.
This cute Sofia the First slippers was a gift on her birthday. Daughter likes the slippers because it lights every time she walks.

Few days ago, one of my nieces got married. The couple was married through a civil wedding. On July, they are planning to get married in the church. My niece is 5 months pregnant and by July she has already delivered her first baby. The bride would definitely look pretty and sexy in her wedding gown with complete accessories at this time. I can't remember, but last year she showed me the engagement ring. I'm not sure if it is gold, platinum or other kind of ring. Well, is she is looking for platinum wedding rings I will help my niece where to get it online.
I wish my niece, her husband and the coming baby, all the best in this world. Always put God as the center of your relationship.
Do you smell Christmas already? Here in the Philippines we celebrate Christmas at longer times. When the "Ber" month started it's already the start of the celebration. During September you can hear Christmas songs already especially in different radio programs. Hear them on television and you can see many Christmas ornaments in many stores. At this time also many are already thinking of the gifts they will be giving to their loved ones. In our house we don't have Christmas decoration yet. We normally do this after All Saints Day. My daughter is excited for Christmas but not her upcoming 7th birthday, hahah.
Do you have Christmas decorations already? If you are still looking for ornaments better shop for dept 56 snow village and for sure you will get something from this store. I saw these photos from their site and I find them cute.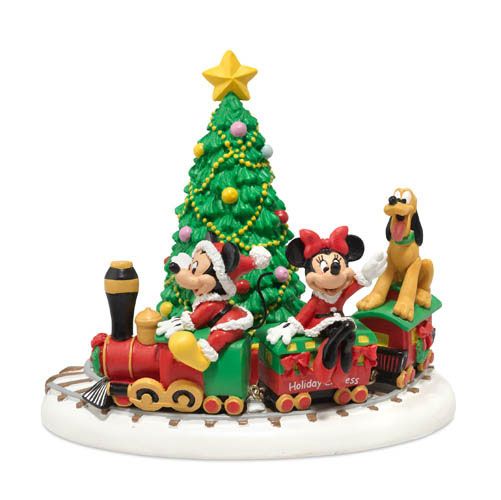 Time flies so fast. It's already in the mid of October and by next week for sure Trick or Treating events will be happening. Malls in our place already posted the event and encouraging the kids to join the event. I think there is also a contest wherein participants could win prizes for wearing the best Halloween costume. 
Trick or Treat happens in many parts of the world. And the Philippines is practicing this event as well. It might be in  different houses, the malls, restaurants, fast food chains, schools and simply in your neighborhood. My sister-in-law asked me if I will join my daughter in Jollibee's Trick or Treat for this year. I think my daughter participated two times in this Jollibee's event. Last year she didn't join so I'm thinking of joining her this time. But I forgot that my daughter will be turning 7 in less than a month. Honestly, I don't have specific plan yet and I know this event is something special. They said birthday should be celebrated during first, seventh and eighteenth birthday. I might skip this Jollibee's event and focus on my daughter's 7th birthday celebration. I'm not thinking of something big because we don't have that much money. And frankly, I don't have plan of doing this but my family encourages me to do even a simple celebration. Anyway, I will talk more about my daughter's incoming birthday celebration and I hope I will not be encountering dilemmas. Doing a party is stressful so I hope I will find all the guts. Wish me luck =).

Last March 26 was my daughter's moving up ceremony. Sorry I wasn't able to share it on time because of my mother's health condition (will share it to my health blog). Anyway, my daughter will be facing new chapter of her life because in the next school year she is in grade school. I know this will be a big adjustment for both of us. Unlike when she was in prep school, in elementary she's already in whole day class. Oh well, that's part of growing up and everybody is facing this journey.
For the event; daughter and I have worn lace dress. I didn't plan to wear lace dress for the occasion but glad to find affordable lace dresses for both of us. I have this combination of dark purple and black dress. I just bought it in nearby store and got it for Php350. It's really cheap compared to the price in the mall. For my shoes, I wore Mario D' boro purple shoes, I first used the shoes when my daughter was 1 year-old. After 6 years, I was able to use it again and I think the last time because after the moving up ceremony it was broken. Thankful because it happened after the event and I didn't buy new pair of shoes.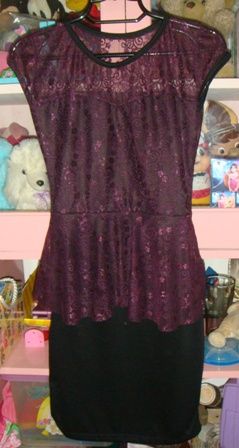 For my daughter's lace dress – I was glad to see this nanno dress on sale. I bought it for Php400 half of the original price. It's simple with lace on top and I liked the design of the bottom of the dress and the color itself. Also the fuchsia pink small flower on top is cute and the necklace was also included that adds beauty to the dress. To complete, she wore white stockings and white shoes.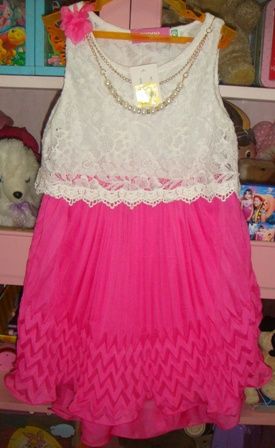 Picture before going to the event.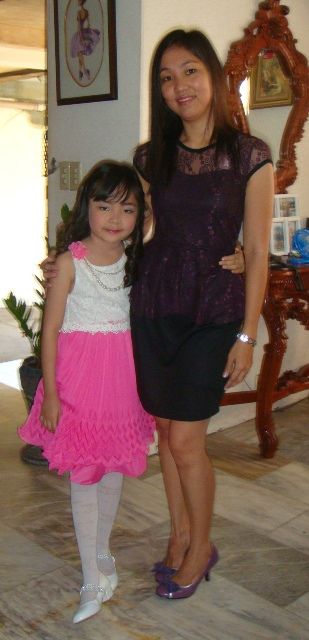 Time flies, next week my daughter will be graduating from preschool. She will be facing new chapter of her life. She will be going to grade school and there will be big adjustment because its already whole day class. Anyway, before this happen we will enjoy first the summer vacation. Speaking of graduation, the graduating female students were asked to wear Sunday dress with white shoes and stockings. We went to the mall yesterday and found a dress. My daughter chose the dress and for me it's simple but pretty. I will share the dress next time, I haven't taken a photo. I will show also the white shoes we bought last week. Okay …I will stop here and check design online I will need printing services for my future projects. I heard there is a site that provides good quality printing online so I have to check it now. Enjoy your weekend!