Browsing Category: "Beauty"
This is a sponsored post. All opinions are mine.
Admit it, having wigs is so amazing. It can help you to have a quick makeover especially when you are in a hurry in joining a party or even in your daily beauty routine. Wigs which are made with quality and durability will last for a lengthy time. Of course, you need to give it the proper care. You also need to put it in a proper place. With that, you are assured that your wigs will stay as beautiful as you first bought it and it will be ready when you need it.
When you love to have human hair wigs and you want to have thousands of choices before buying, do check divatress.com. This online store has lots of different types of wigs, just like these human hair lace front wigs, Remy hair, Synthetic wigs, and other hair accessories for you. You can also select different brands of wigs, such as Vivia Fox Wigs, Motown Tress, Gabriella, Acclaim New York, Next image, Miss Jessie's, Sensitive By Nature, and more. At divatress.com you can find brands from A to Z. When you shop, don't forget to check their clearance section and also do enjoy the free shipping with your orders of more than $49 (within USA). Have fun shopping!
I have seen Korean putting cucumbers in their eyes. They put cucumbers around the eyes and sometimes on the face. I guess it is one of their beauty secrets. This practice has been used in many skin clinics especially when doing facial treatment.
In the house, I tried putting cucumber especially when my eyes are tired and I must say it has a soothing effect. I should do this regularly because I'm already in my midst 30's. With my age, I need to take care of my skin so I can stay younger.
According to wikipedia Cucumber (Cucumis sativus) is a widely cultivated plant in the gourd family Cucurbitaceae. It is a creeping vine that bears cylindrical fruits that are used as culinary vegetables. The cucumber is originally from Southern Asia, but now grows on most continents.

Cucumber has anti aging capabilities and it can hydrate the skin. It is also high in vitamin C, which makes our skin healthy.
How to use cucumber at home?
– Apply two slices of freshly cut cucumber on both eyes. This would help reduce the appearance of under eye darkness and puffiness.
– Soak two cotton balls in the cucumber juice and apply it around your eyes.
– Grated cucumbers or cucumber juice can be used to treat freckles, age spots and other blemishes.
Always remember, cucumber is good to your health and skin but when putting it your eyes, make sure your hands are clean.
Diana Stalder is celebrating its 18 years in the business. According to their official FB page, they are the leading authority on skincare & beauty with some of most advanced aesthetic treatments & products. And to celebrate its 18 years they come up with different promos. Check this out.
Get gift certificate value of P3,500 and pay only P1,800.
DS offers facial treatment for only 18 pesos, wow really huge discount. This offer is valid for the first 18 clients of each Diana Stalder branch.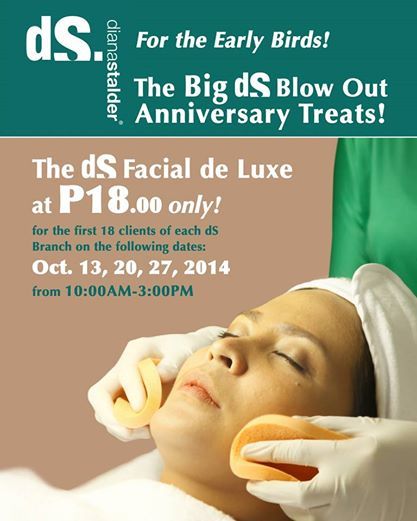 Disclaimer- Photos are not mine
Getting an item for free is really great. I was happy because I received Pantene products for free. I saw a post on Facebook on how to get these items so I didn't think twice and checked the site. When I was in the site I just answered few questions, like a survey and after few minutes I got message regarding my free Pantene kit. I knew it's true because other bloggers and I think non-bloggers already received the products.
Well, after a short time, my free Pantene products arrived safely. I'm a Pantene user for a long time and getting free products from them is an awesome feeling. I got 1 bottle of Pantene daily intensive conditioner and 1 bottle of Pantene All Day Smooth Miracle Water.
According to the package labels, Pantene daily intensive conditioner gives you 80% MORE conditioning ingredients than the regular Pantene conditioner, strengthening your hair from the roots out. It's the perfect product to add to your daily hair care regimen, especially when you have breakage and split ends. It will nurture your hair back to its natural beauty all the way to the tips.
Pantene All Day Smooth Miracle Water – all weight, non-sticky leave-on which transforms into clear liquid upon contact with hands, releasing the water content that provides a light-finish. It helps hair maintain the perfect moisture level when you are out and about. With just 2 pumps a day, you will have beautifully moisturized hair in any kind of weather condition.
I'm already using my free Pantene products. I'm a regular user of pantene conditioner but this miracle water is new to me. Well, I must say it's really nice to my hair. Using this miracle water makes my hair smooth and easy to manage of course with the help of Pantene conditioner. Thanks again Pantene and definitely I will continue using your products.
This is an overdue post. The photo below is me while I'm enjoying my diamond peel treatment at Dermcare. This is my second time to enjoy their diamond peel treatment for only Php250 instead of Php900. I got the promo through Metrodeal, so big thanks also to this online site. I hope Dermcare will have more coupons for diamond peel treatment because I really enjoyed their service and friendly employees. Its really good to pamper ourselves once in a while after all the hard work especially here in blogosphere. 
Finally after a month I already used my Derm Care coupon I got from Metro Deal. Remember the deal I got which is 72% off on Diamond Peel Treatment? So, today my sister-in-law and I went to Derm Care. She wanted to have facial treatment since I don't have anything to do I go with her. I used the coupon I purchased from Metro Deal. I thought it will be hard for me to use it but I was wrong. The attendee just asked my voucher print copy and one ID. After I gave the copy, ID and filled up some information, I waited for 5 minutes before my turn.
Procedure
They let me wash my face first. Then after a while, the girl started the procedures. First, is the facial treatment, she removes blackhead and whitehead on my face. Second is diamond peel treatment. The girl said diamond peel treatment is advisable to those who have freckles, dead skin and wrinkles. Diamond peel treatment is not advisable if you have acne or pimples so don't ever try the procedure or be sorry after. She also added I should have at least 5 sessions before I finally see the result. I have freckles and I wanted to eliminate it so I hope I will accomplish 5 sessions.
The problem is I don't have another voucher from Metro Deal but Derm Care said it is continuous promo so I will check it again in Metro Deal. Imagined from 900 pesos, I only paid 250 pesos at Metro Deal so really big help for me. Well, I didn't encounter any problem using Metro Deal Coupon so I will purchase more until I finished 5 sessions of Diamond Peel. I heard others giving bad rating for Metro Deal but as I said I didn't encounter any problem using the first voucher I purchased from them so my trust from them is still intact, heheh.
Anyway, sorry I couldn't give step by step procedures because I'm not sure what the girl is applying on my face but I'm happy with the result and I felt lighter on my face. Have you tried diamond peel treatment?
To give you more information about diamond peel treatment this is what i got from ehow.com 
A diamond peel treatment is a non-surgical procedure in which the skin is exfoliated to remove dead skin cells using actual diamond chips to vacuum the skin away. In order to do this, the top layer of skin is removed in order to rejuvenate the skin. The epidermal cell structure is actually restored, increasing the skin's elasticity and collagen levels.
During a Diamond Peel, a skilled professional gently runs a hand-held device with a diamond tipped wand over the skin. A steady layer of diamond dust is applied to the skin and then vacuumed away, exfoliating away dead skin cells and removing fine lines and wrinkles. Wand tips of varying sizes are used to get into the tighter areas, such as around the eyes, nose, and mouth. Wands of different coarseness are also used on spots of the face where the skin is more sensitive. Each treatment should take about 20 minutes, but may take longer depending on the special needs of your skin. For instance, if you are getting treatment for deep stretch marks or another specific skin condition, the procedure will take longer because they require more thorough, focused work. Diamond peels typically cost around $100 to $200 per visit. However, these prices vary greatly depending on the city you live in and the salon or spa you choose.
Are you familiar with Metro Deal? It features the best deals on the best things to do, see, eat, and buy across the Philippines since it was launched in early 2011. I always tempted to get deals from them but many of the deals are not available in our place. Thankfully, I got one deal from one of the products. DermCare is offering Rejuvenating Diamond Peel Treatments for only 250 pesos instead of 900 pesos (42 branches nationwide). Wow, this is a good deal already imagined 72% discount. Before purchasing I first called DermCare in our place and asked if they are accepting Metro Deal Coupon. They said yes, so I purchased one. Only one because I want to try it first and later on I will get another from Metro Deal if the treatment is good for me.
Diamond peel is a process where skin is gently exfoliated with deep delivery of skin specific solutions such as Vitamin C, and superb moisturizer for an even and blemished-free skin. It makes face feel silky smooth and rejuvenated by sloughing off layers of dead skin with the help of an innovative machine utilizing the power of natural diamonds. Stimulating cell growth and leaving face silky smooth and fashionably fresh. This treatment is also called Microdermabrasion and is also ideal for minimizing acne scars, fine lines and sun damage.
This treatment includes facial cleaning and complete Diamond Power Peel Treatment and takes about 45-60 minutes. My voucher is valid from July 5, 2012 – April 30, 2013 so no rush to use it. The good thing it's transferable and can be given as a gift to family and friends.
I am excited to use it but the time doesn't permit me to do so. Good thing the voucher is valid until next year. I hope the treatment will give positive result to my face though I know one treatment is not enough. I am planning to purchase more in Metro Deal if there's available.
Highlights from DermCare – Diamond Peel Treatment
The treatment is suitable for men & women of any age. All skin types and colors.
Make your facial skin smoother, softer, and cleaner instantly after this refreshing treatment – get the beautiful facial skin that you have always dreamed of.
Best for ageing skin, sun damaged, unwanted pigmentation, acne/pimple marks, scars and age spots, fine lines and wrinkles.
Not advisable for guests with pimples/acne. It's best to avail pimple/acne treatment first.